What is Contacted?
...and how does it benefit me?
Contacted Addresses and Solves Two Unique Business Trends
Contact Centers are in huge worldwide demand.  Businesses both large and small, need improved methods to acquire and interact with new prospects and existing customers.
There are hundreds of thousands of people who want to break free, become self-employed, work from home, and enjoy a brighter future.  Contacted gives them this opportunity.
It's All About Communication
Unless staffed with a well-funded and dedicated marketing department, business owners have neither the time nor the inclination, to master and embrace modern communication methods like social media, live chat, email, SMS, call, and video conferencing.  The Internet technology revolution has made people more demanding. They want quick responses, and they want it on their preferred communication channel.
The Contact Center market is a multi-billion industry expanding exponentially across the world.
The No Barrier, Home-Based Business Opportunity
Thousands upon thousands of people around the world are stuck in mundane and unrewarding employment.  Including people who harbor an ambition to break free and start a profitable home based business.
Individuals with an entrepreneurial mindset can launch their Contact Center business, work from home and build a brighter future for themselves and their family.  Contacted is the answer to their ambitions because anyone can do this business.
What They Can Do
Offer outbound, small overhead, calling services from their homes to local businesses, aimed at finding them, new customers. A service in huge demand by business owners, of all kinds.
Free business owners to concentrate on their core skills.
Contacted Is a Fully Integrated Contact Center Suite
An integrated Customer Relationship Manager (CRM).
Online real-time web based software.
Script Writer with built-in Mail Merge.
Next record in database Auto-Dialer.
Automatic Dispositions Updater for the CRM.
Internet Hosting.
Online Help Manual and tutorials.
Option to add additional Agents
We Help Businesses Grow
All you need is a personal computer and an Internet connection.
Operating a Contact Center Is Simple
   Import your leads into the CRM database.
   Create your Call Script and insert appropriate Data Merge fields.
   Create a Call Campaign list (contacts to call).
   Select your preferred Softphone, or use Skype.
   Click on the Auto-Dialer Start button.
It's That Easy!
Once you have completed your first call and entered and stored a Call Disposition (call status) into the CRM, the AutoDialer dials the next prospect on your list.  This feature alone can increase your staff productivity ten-fold.  Telemarketers have to focus on the dialing instead of talking to other people in-between calls.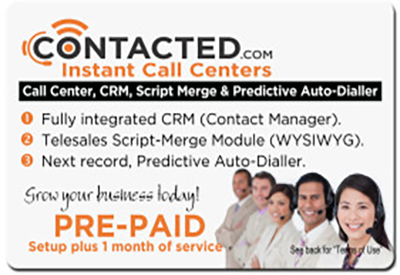 A Multi-National Software Development Company
A company with close to 30 years of experience in providing custom Marketing software.
A company that has built its success on effective and mutually beneficial relationships with our customers.
A company with sales, marketing, development, and support staff in multiple locations around the world.
A company with leadership based on entrepreneurship and a firm conviction that problems are there to be solved and customer relationships can only be built on a "win-win" foundation.
Entrepreneurs Act Swiftly and Decisively When They See an Opportunity.  How About You?
– Quickly create your data-merged Call Scripts to drive your sales agents to maximum productivity.
– Add pages and manage "Script Branching." And add "Rebuttal Pathing" that steers the sales-pitch to the intended goal.
– Pre-define "Drip emails" to ensure your prospects are kept interested by emailing them on a defined date schedule.
– Add one or more PDF, images, or even media attachments to your Drip Emails.
– Add Filters to your Script to call certain demographics, i.e. "all contacts in a particular City."
Call Scripting with the integrated Auto-Dialer
Leverage your existing SIP account or use your Skype account, or use your standard telephone, or take advantage of our free and fully integrated "Web-Dialer" combined with your existing SIP account, and immediately start dialing from your web browser.
Phone "Call Dispositions."
Call Dispositions are Flag(s) that are activated by your agents to complete each presentation.
Keep track of your staff activity, even when you are away from the office via emailed reports pushed to your Smartphone!
Reporting becomes available to you from within Contacted; they can also be Pushed automatically via email to you, on a schedule defined by you, (i.e. daily, weekly and monthly).
Call Script Auto-Update: Tasks, Meetings, Contacts and Sales Opportunities
When an agent completes a call and sets the mandatory Call Disposition, Contacted then automatically establishes a future appointment, Task, Meeting or Opportunity for your Agent to follow up at a later date. Contacted "sets it and forgets it," until the date specified, ensuring your sales Agents are as productive as they can be.
Mailing Campaigns
Prepare professional Email Campaigns to send to your contacts and your prospects. The opportunities are endless!
Upload your PDF brochure and other materials for use in your email campaigns. Save them in the "Document Library" for reuse again. As your Document Library grows, deploying new campaigns becomes quicker and more varied.
Contact Us
Contacted Global
One Pacific Place
MLM Corporate Co.ltd
1405 Pacific Place 1
140 Sukhumvit Rd., Klong Toey
Bangkok, 10110 Thailand
Phone: +66 02 254 5693
Mobile: +66 88 875 0538
Email:  admin@contacted.com
Click here to register now: