Discover Contacted
"An Innovative Contact Center Solution for Business and Individuals."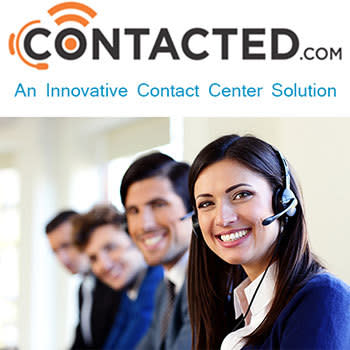 You will be helping us introduce this excellent new concept, with it's unique approach to helping home based entrepreneurs, and small business owners, worldwide, you'll be joining with us to empower people to help themselves.
Startup Founder Perks
You'll receive the new book "Keep Calm and Contact" as seen on Amazon.com, published recently by our company Founder Peter Spary.  Each of the reward program Perks includes the book.
"Keep Calm and Contact" provides full instructions on how to launch and make money with "Contacted.com."  An outstanding business opportunity for everyone who wants to start a home-based business for under $100!
Contacted addresses and solves two unique business trends
Contact Centers are in huge worldwide demand.  Businesses both large and small, need improved methods to acquire and interact with new prospects and existing customers.
There are hundreds of thousands of already trained Call Center people who want to break free, become self-employed, work from home, and enjoy a brighter future.  Contacted gives them this opportunity because they can get started for less than $100.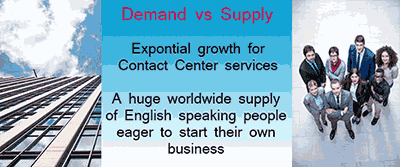 It's all about communication
Unless staffed with a well-funded and dedicated marketing department, business owners have neither the time nor the inclination, to master and embrace modern communication methods like social media, live chat, email, SMS, call, and video conferencing.  The Internet technology revolution has made people more demanding. They want quick responses, and they want it on their preferred communication channel.
The Contact Center market is a multi-billion industry expanding exponentially across the world.
The no barrier, home-based business opportunity 
Thousands upon thousands of people around the world are stuck in mundane and unrewarding employment.  Including people who harbor an ambition to break free and start a profitable home based business.
Individuals with an entrepreneurial mindset can launch their Contact Center business, work from home and build a brighter future for themselves and their family.  Contacted is the answer to their ambitions, because anyone can do this business.
This is what they can do:
Offer outbound, small overhead, calling services from their homes to local businesses, aimed at finding them, new customers. A service in huge demand by business owners, of all kinds.
Free business owners to concentrate on their core skills.
Start-up Opportunity for less than $100!
Contacted is a Fully Integrated Contact Center Suite.  
    A fully integrated Customer Relationship Manager (CRM).
    Online real-time web based software.
    Script Writer with built-in Mail Merge.
    Next record in database Auto-Dialer.
    Automatic Dispositions Updater for the CRM.
    Internet Hosting.
    Online Help Manual and tutorials.
We help businesses grow
Build your own Contact Center Suite business at home, or small office, for under "US$100".  All you need is a personal computer and an Internet connection.
Operating a Contact Center is simple
   Import your leads into the CRM database.
   Create your Call Script and insert appropriate Data Merge fields.
   Create a Call Campaign list (contacts to call).
   Select your preferred Softphone, or use Skype.
   Click on the Auto-Dialer Start button.
It's that easy!
Once you have completed your first call and entered and stored a Call Disposition (call status) into the CRM, the AutoDialer dials the next prospect on your list.  This feature alone can increase your staff productivity ten-fold.  Telemarketers have to focus on the dialing instead of talking to other people in-between calls.
Contacted pricing
    The 1st month is FREE!
    Optionally, continue for only $29.95 per month.
    Optionally, add additional Agents for only $10 each.
Product Status
The Contacted product is ready, the support structure and the personnel are in place.  We are ready to go!
The product has been used, tested, and refined over a period of three years and used extensively in our Florida, Nevada, Manila, Singapore, and Bangkok offices.
We offer you the opportunity to share our journey.
A Multi-National Software Development Company
A company with close to 30 years of experience in providing custom software to the multi-level marketing industry MultiSoft.com.
A company that has built its success on effective and mutually beneficial relationships with our customers.
A company with sales, marketing, development, and support staff in multiple locations around the world.
A company with leadership based on entrepreneurship and a firm conviction that problems are there to be solved and customer relationships can only be built on a "win-win" foundation.
Entrepreneurs act swiftly and decisively when they see an opportunity.  How about you?